She lay dormant in rolling sandy gullies, fatigued by the lowly slung sun by Rebecca Ounstead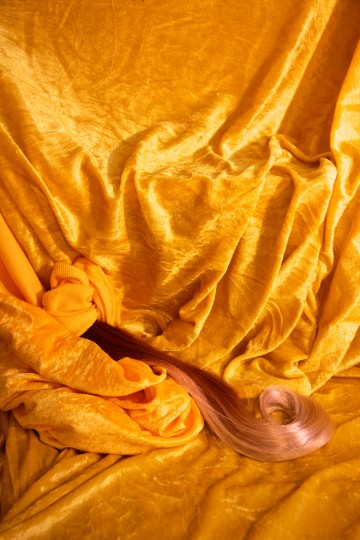 She lay dormant in rolling sandy gullies, fatigued by the lowly slung sun by Rebecca Ounstead
C-type Print on Fuji Crystal Archive Paper, edition of 10. 254 x 203mm (10×8").
Produced alongside Tassels 'n' That, solo exhibition by Rebecca Ounstead following a month long residency in the gallery. Ounstead works predominantly in sculpture and performance to experiment with the manipulation of materials and the arrangement of objects with a playful and almost fetishistic approach. Exploring the potentials of these materials and their altered states and functions, she examines the translation of object into ornament, painting into pattern and fabric into framework while executing her sculptures with close attention to finish to emulate the products, environments and ideologies associated with various, often luxurious, lifestyles.
Rebecca Ounstead is based in Nottingham, UK, and graduated from Nottingham Trent University with BA (Hons) Fine Art in 2012. She has recently completed a residency in the Netherlands at HotelMariaKapel and has exhibited as part of Take a Bite of Peach, Attic, Nottingham, 2014; Surfacing, Hand in Glove, Bristol, 2014; Seven, Primary, Nottingham 2013 and Exeter Phoenix Open, Exeter, 2013.